What Our Patients Like Most About Our Pharmacy
We would love your feedback! Please let us know how we are doing and leave us a review below.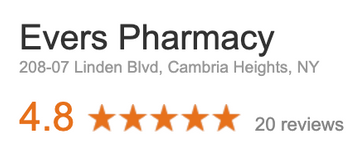 "Love this place. Always clean and very helpful people. Definitely what our community needs. Also great prices. I fill my mom's prescriptions there and have no problems!"

"This is a well-established pharmacy serving a large community. They have a reputation of being one of the, if not the best local pharmacies."

"The pharmacists are helpful and knowledgeable and are willing and able to help you out with any questions or concerns that you may have."

"The store is clean and well maintained, and the staff is very helpful."

"They have tons of stuff I can't find in other stores around Cambria. When I brought up some things that I was hoping would be in stock, they put them on the list of incoming orders for me. The employees and management were really friendly too. My new favorite pharmacy in the area!"

"I love this place I have a 96-year-old grandmother and a 70-year-old mother and I get all their meds from here. The staff is knowledgeable quick and takes care of all my needs at a moment's notice. There really isn't customer service like these guys hands-down best in business. I really truly can't say enough good things about them simply amazing!"

"Great prices, great people and they deliver to your doorstep! Highly recommend."
We would appreciate your feedback to share on this page of our website. We'd like to let others know what our current customers have to say about Evers Pharmacy! Thank you in advance for your time and consideration.